Teeth Whitening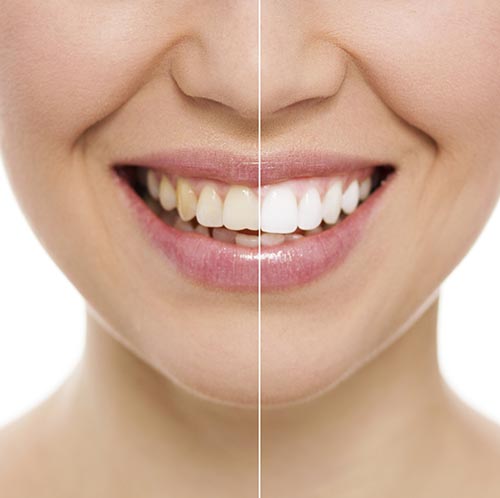 Whitening the teeth is one of the easiest and most noticeable changes that you can make to improve the appearance of your smile. Whitening is a non-invasive and simple dental treatment that will alter the colour of your teeth to make your smile look whiter and brighter.

For many people, dull or stained teeth are the primary concerns that they have about their smile. At-home teeth whitening systems are the most popular method for correcting this problem. However, if you have older fillings, crowns, and other restorations, you need to be aware that these whitening systems will only work to improve the appearance of the natural tooth enamel, so you won't notice any changes on those restorations. You may need to have those restorations replaced after whitening your teeth so they match the new and improved colour of the rest of your smile.

Whitening can rejuvenate dark, discoloured and aged teeth to a more youthful appearance.


The Teeth Whitening Process

First, we must ensure your teeth are in good health and free of any areas of decay.

If you choose to whiten your teeth, first we must ensure your teeth are in good health and free of any areas of decay. Dr. Lebed recommends an at home whitening system, for which you will generally need two dental appointments. At your first visit, we will take molds of your teeth to create customized plastic trays to hold the whitening gel.

After your trays have been fabricated, you'll have a second appointment where we'll make sure they fit properly. You'll receive instructions on how to wear the trays for optimal results. In most cases, this will involve wearing them twice per day for two weeks.

If you would like a whiter smile please give us a call at (416) 237-1273.